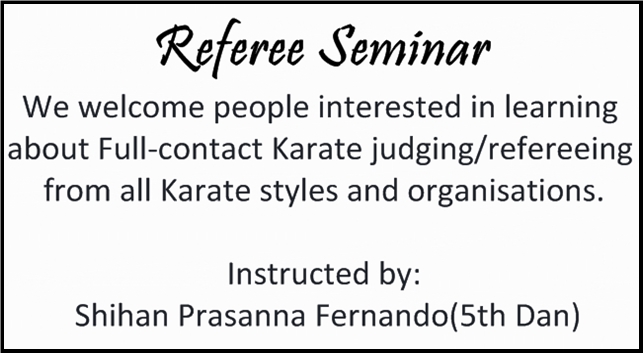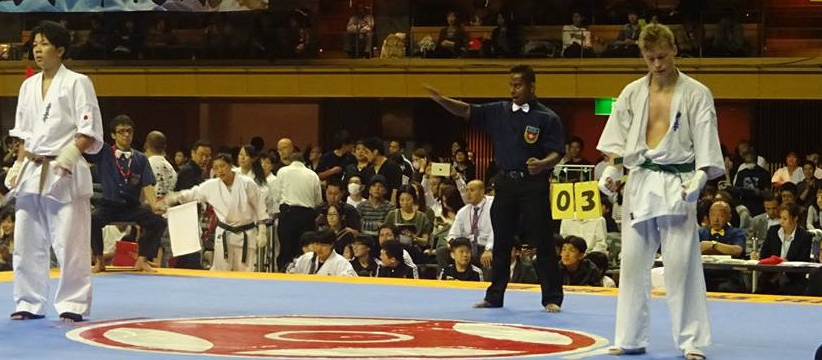 Dear Instructors and Karate members
To contribute to the development of full-contact Karate-do and help improve our capacity to run successful Tournaments we will be holding a refereeing and judging workshop on Sunday,22th of July 2018 at 10.00 am to 16.00 pm at our Honbu Dojo in Glasgow.
Successful participants can apply for a referee license from our organisation to certify their training.
The course will be conducted by Shihan Prasanna Fernando (5th Dan), Shihan has 37 years experience of Karate, including Asian Tournaments, All Japan Open and World Tournament judging/refereeing experience and having trained under the best instructors in Japan.
We welcome people interested in learning about Full-contact Karate judging/refereeing from all Karate styles and organisations. If you and your members are interested please email us at budo.karate@yahoo.com
Osu!
Jonathan Mendoza
Secretary
Kyokushin Budo Karate Shakai International
---
Full Contact Karate Referees and Judges Course and Examination
Please click here to download the application
We welcome people interested in learning about Full-contact Karate judging/refereeing from all Karate styles and organisations.
Date: Sunday, 22nd of July 2018
Time: 10.00am to 16.00pm
Venue:
No.105, 1st floor
AXIOM BUILDING
54 Washington Street
Glasgow
G3 8AZ
Sanction by: Kyokushin Budo Karate Shakai International
Instructor: Shihan Prasanna Fernando 5th Dan (Senior Judge-Referee IKO Kyokushinkaikan, Kyokushin-kan and IKO Sokyokushin since 2001)
This course will provide an excellent opportunity for all participants to raise their level of knowledge and skill in Full Contact Karate Kumite Tournaments. Instructions will be provided in the areas of Judging and Refereeing. The course will consist of practical training, practical examination and written examination.
This seminar is highly recommended to all Karateka, As well as dojo supporters and parents of the competitors in order to learn more about the Full-contact Karate rules and regulations.
Referee examination for Licence is only allowed for those who are over 4th Kyu Green belt.
We are conducting this examination for Licences according to IKO Kyokushinkaikan Japan's Judge/Referee standards. These are divided into three categories. The categories are 3rd Kyu, 2nd Kyu and 1st Kyu.
Branch chief or Dojo Operator will decide what examination you will take part according to your Karate experience. (Please look at the chart on the application) However, after the judge/referee training, the Referee Committee will decide what license you should apply for.
Proper dress is required.
Dress Code: Organisation official Referee uniform or blue shirt (short leaves shirt) black trouser and White tie. (Those do not have the referee uniform; please wear white short leaves shirt and black trouser)
Tea, coffee and a light lunch are provided.
Course Fees: £25.00
Examination/Licence fees for 3rd Kyu, 2nd Kyu and 1st Kyu £30.00
Please note: There are only 25 spaces available at our Honbu-dojo. We kindly request you to inform us how many people will be attending from your dojo by 10th of July. If there are more people, we will be arranged in another venue.
More information: Email: budo.karate@yahoo.com,Phone: 07443039485