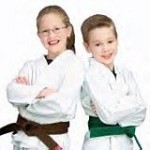 "Kids Karate Dojo" Kids Karate Classes starting at age 5.
"Kids Karate Dojo" for kids is not just another sport and it is not all about learning how to fight .Enrolling your child in a Karate class helps them to become positive and productive members of the community, teaches them self discipline and respect and shows them that they can do whatever they set their young minds to. When a child feels this way they can begin a whole new journey in life; one that takes them on to excel in all areas of their lives. Their performance in school will enhance, their behavior at home will become more positive and their overall attitude will shift into one of quiet maturity.
Learning the lessons that Karate will teach them at an early age will serve them better because they will not have a chance to pick up any negative habits or behaviors, and if they already have, taking karate at Martial Arts Principles will nip that in the bud right away!  
We offer Amazing Karate Classes for Ages 5-13

In a Fun, Friendly, Safe Environment. The Dojo has a dedicated black Belt Instructor, enhanced CRB disclosures and is First Aid trained.
Location: 1
Corpus Christi Church Community Hall
Lincoln Avenue,
Glasgow,G13 3RG
Starting date: 22nd Monday October 2012
Time: 6.30-7.30 P.M
Location: 2
Heart of Scotstoun Community Centre           
64 Balmoral Street
Glasgow
G14 0BL
Starting date: 10th  Wednesday, October 2012
Time: 5.00-6.00 P.M
More information coming soon.    Email: 
budo.karate@yahoo.com