6 th June 2015 Glasgow,U.K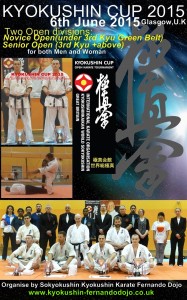 Dear  Shihan,Sensei,Sempai and friends
KYOKUSHIN CUP 2015 Men and Woman Open Karate Tournament, Glasgow
I am planning the Kyokushin Cup for 6-06-2015 next year and I would like you to save the date so you and your members are able to attend it you wish.
There will be two Open divisions:
Novice Open(under 3rd Kyu Green Belt) Senior Open (3rd Kyu +above) for both Men and Woman. Official invitation and other details will follow shortly.
Referee seminar and m
edical check will be at the arena of competition on 5th August evening.
We are looking forward seeing you and hope you will enjoy in good Tournament and your stay in Glasgow.
Sokyokushin Kyokushin Karate Fernando Dojo