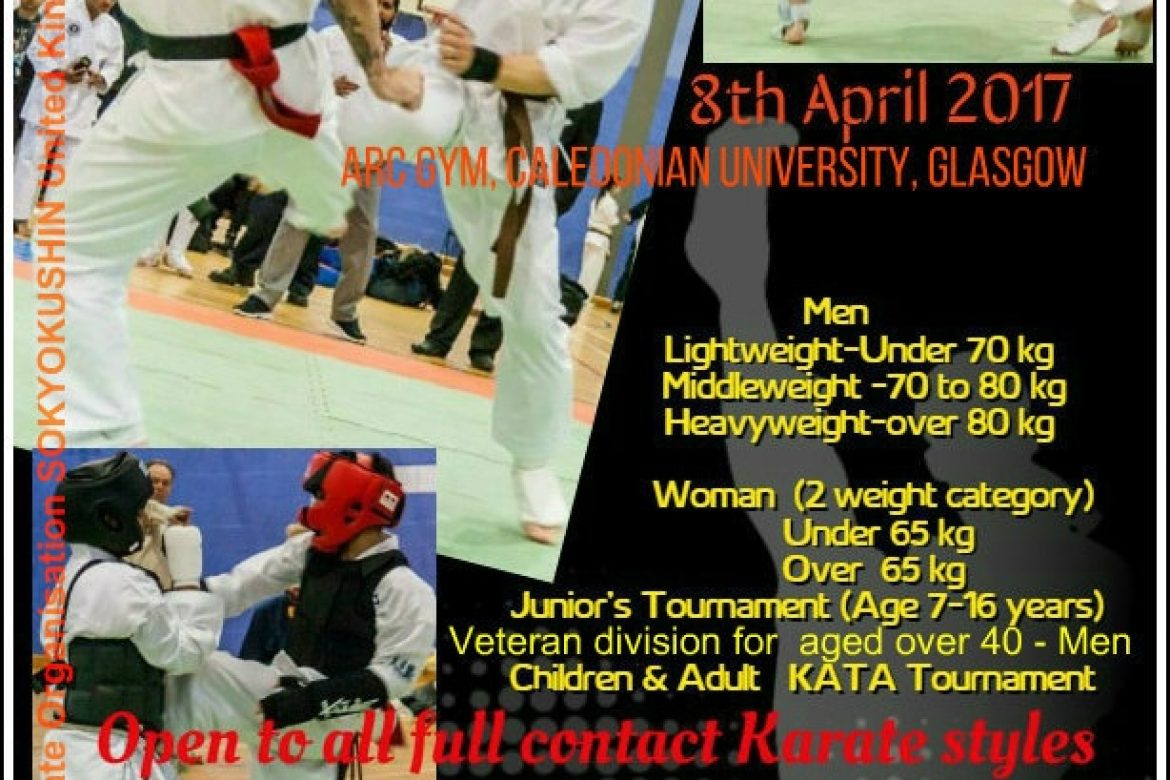 Kyokushin Cup 2017,The 4th All UK Open Karate Tournament in Weight Divisions
8th April 2017,Glasgow
Official Invitation
We cordially invite you to participate in the KYOKUSHIN CUP 4th Open All UK Tournament on the 8th April 2017. The event is held at the Arc Gym, Caledonian University, Glasgow.
The rules will be the International Knock Down standard competition by the rules of International Karate Organization Kyokushinkaikan.
Fighters will be divided into following weight classes:
Men
Lightweight – Under 70kg
Middleweight – 70 to Under 80kg
Heavyweight – Over 80kg
Woman (2 weight categories)
Under 65 kg
Over 65 kg
Junior's Kumite Tournament – Age 6-15 years( five age categories)
Cadets- Age 16,17 – Male and female.
Veteran division for aged over 40 – Men
Kata Tournament held under following categories:
Under 9, under 13, Age 14-17 and over 18
***The Organizers reserve the right to change any categories on the day***
Application: till 28th of March 2017 on:
Please contact for more information: budo.karate@yahoo.com
Every participation will be greatly appreciated to promote understanding, foster friendships and respect between Dojos/Organisations and disciplines.
If you have any questions or if you need any additional information, do not hesitate to contact us. We are looking forward to seeing you in Glasgow.
Osu!
Yours sincerely
Prasanna Fernando Shihan
World Sokyokushin Kyokushin Karate Fernando Dojo
KYOKUSHIN CUP 2017 Rules
About the accommodation for the tournament participants:
We would like to recommend you the following hotels
1)Euro Hostel Glasgow ( Euro Hostel has budget accommodation in private and dormitory rooms,10 minutes working distance to the tournament venue)
2)St Enoch Hotel (A budget hotel in the heart of Glasgow city centre, 10 minutes working distance to the tournament venue)
3)easyHotel Glasgow City (A budget hotel in the heart of Glasgow city centre, 5 minutes working distance to the tournament venue)
4)Premier Inn Glasgow City – Buchanan Galleries(In the heart of Glasgow, this Premier Inn is just 5 minutes' walk from the Tournament venue)
5)Premier Inn Glasgow City – Charing Cross (Next to Charing Cross Rail Station in Glasgow's centre, 15 minutes working distance to the tournament venue)
6)Premier Inn Glasgow City – George Square ((In the heart of Glasgow, this Premier Inn is just 8 minutes' walk from the Tournament venue)
*We recommended to book your accommodation at your earliest convenience.
Choose the accommodation that best suits to your needs, other accommodation possibilities available on booking.com