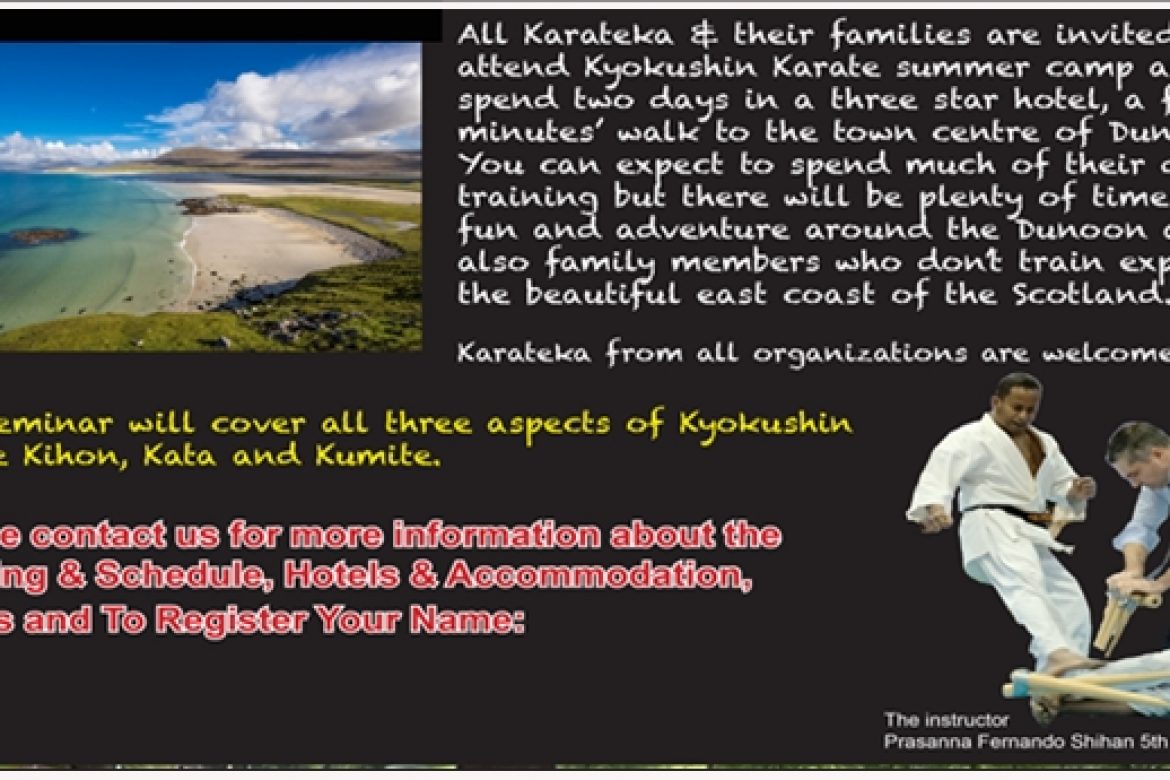 The 3rd Kyokushin Karate Summer Camp 2019
On the 13th and 14th July 2019 we will hold our annual summer camp in Dunoon, Scotland
All Karateka & their families are invited to attend Kyokushin Karate summer camp and spend two days in a three-star hotel, a few minutes' walks to the town centre of Dunoon. You can expect to spend much of their days' training but there will be plenty of time for fun and adventure around the Dunoon area, also Family members who don't train can explore the beautiful east coast of Scotland.
The seminar will cover all three aspects of Kyokushin Karate Kihon, Kata and Kumite.
The Camp is led by:
Shihan Prasanna Fernando 5th Dan
Kyokushin Budo Karate Shakai International
Karateka from all organizations are welcome!
There are only 30 places available so please book soon.
The seminar fee will be £95 and a non-refundable deposit of £45 secures your place.
Fee for children under 16 £80
Fee for Non- Karate practitioner £80
This fee includes your accommodation (two persons in a single room) breakfast, lunch, dinner and summer camp t-shirt.
Travelling needs to be arranged by the participants themselves.
Accommodation:
The Park Hotel
3 Glenmorag Avenue, Dunoon, PA23 7LG
Training venue:
Dunoon Grammar School,61 Ardenslate Road, Kim, Dunoon, PA23 8LU
*Entry deadline: 30th of June 2019
Please get in touch with us if you have any questions.
Email:
budo.karate@yahoo.com, Phone: 0744 303 9485
We look forward to seeing you in Dunoon. Osu!