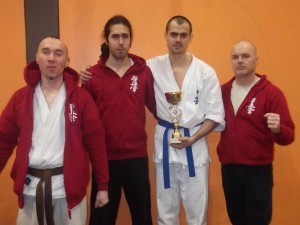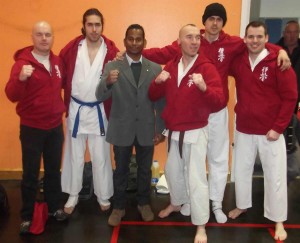 4 fighters represented the Sokyokushin Kyokushin Karate Fernando Dojo in the Scottish Open Full-contact Karate Tournament was held in the Arc Gym, Glasgow on 8th February 2014.
Our Team:
Chris Lafferty- Novice Middle weight
Jonathan Mendoza -8th Kyu- Novice Middle weight
Cezary Zdunek -8th Kyu- Novice Heavy weight
Krzysztof Maciejczak – 2nd Kyu Open Light weight
Sempai Ian Cameron -Shodan – Team Manager
Cezary Zdunek won his first fight within 13 second scored by Ippon and selected to Novice Heavy weight final and he won the 2nd place.
Thanks to organizer Shihan Ian Rodger for hosting event. Osu!