We pride ourselves in providing quality, progressive instruction, within structured guidelines in a caring safe environment. The traditional values and work ethic of Kyokushin Karate still remain and instilled in the students through respect and discipline. "Yes our training is sometimes demanding, and we make no excuses for that, that is Kyokushin Karate, the 'ultimate truth' and the strongest Karate" If you want to find some truth in you and your training, come join us. Our purpose is the teaching and development of Kyokushin Karate within community-based organizations. Our training is non-discriminatory for race, religion or affiliation in any way. We understand that not everybody shares the same passion, but would very much like to share our passion with you.
Dojo (Training Hall) location:
Training schedules

Our full-time Martial Arts Training Centre: We are open to members 6 days a week.Monday to Friday from 5.30pm to 10.00pm and Saturday morning 9.00 to 12.30pm. Our goal is to offer a flexible schedule so that each person can fit training into their busy lives. Please contact us if you have any questions about class times.
Private lessons may be booked at the reception
at £40.00 per hour each in blocks of four.

24 hours notice required prior to a cancellation.
---
Membership Information & Costs
The Kyokushin Karate Fernando Dojo Full-Time Martial Arts & Fitness Centre offers a range of membership options for Kyokushin Karate, Japanese Kickboxing and Fitness classes. Please read on to find out which option is most suitable for you. To register as a member of the Dojo you must first complete and sign our Membership Application Form and hand it in at our reception to be processed.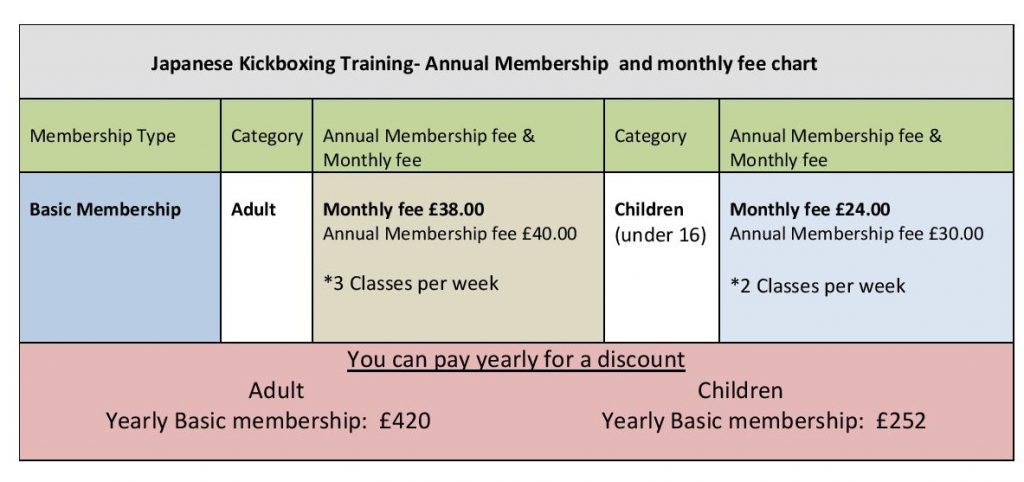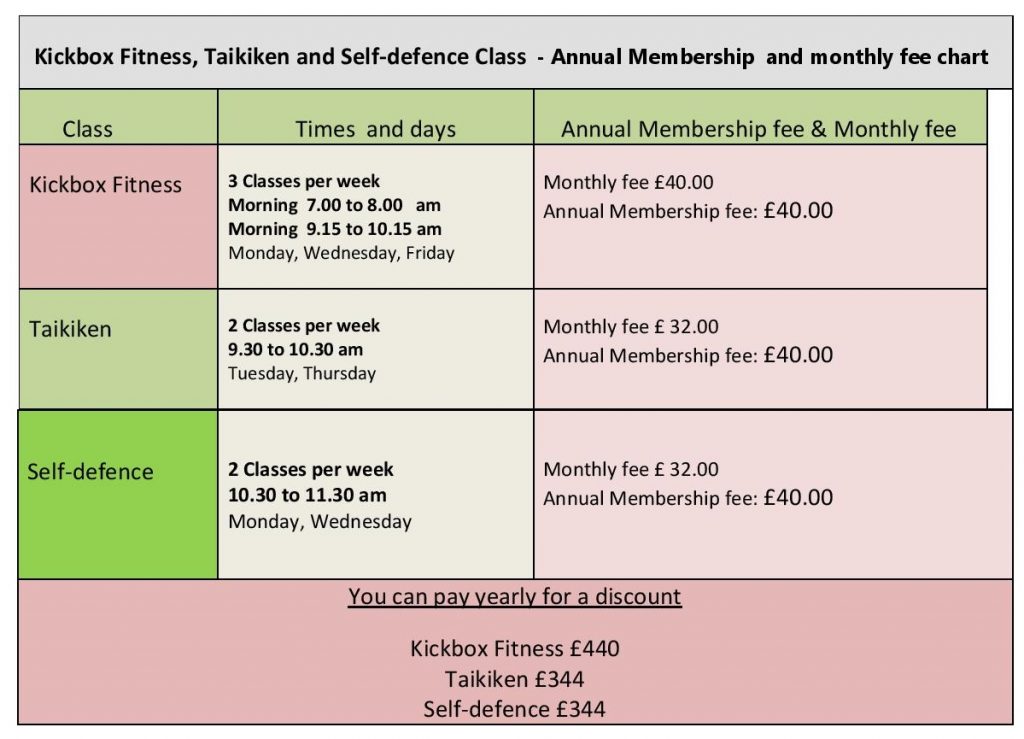 1) We will have a short interview with new members to find out a little about their background and why they are interested in martial arts. Please bring a form photo ID to confirm your identity (e.g. passport, driving license)
2) Anual Membership & Monthly fee for Adult and children training: The Kyokushin Karate Fernando Dojo is currently open to new members. All members are required to pay an initial annual membership fee and monthly fee.
From the first month, you must set up a standing order for the membership and monthly fee. The membership fee provides the student's annual personal insurance. Until the membership fee is paid you cannot train, though we are happy for people to watch the class until then.
3) Members must bring shin guards and groin guards (and chest protectors for females). Shin guards must be of the soft cotton variety, hard plastic and leather shin guards are not allowed for Karate. If you do not bring protective equipment you may not be permitted to train.
4) A Kyokushin Karate Dogi(Uniform) must be worn when training. These can be purchased through the dojo from Shop Sakura or you can buy your own. http://kyokushin-fernandodojo.co.uk/shop-sakura/
5) Please arrive at least 15 minutes before training so you are prepared to start on time and can help to clean and set up the dojo.
6) We do not take responsibility for personal belongings such as watches, phones, and jewellery. Please keep these items your bag; you may store them in the dojo while training.
The Dojo(training hall) booklet contains the Dojo etiquette and it is imperative that you follow it. We are teaching in the authentic Japanese way and all members must show respect to the Dojo, their seniors and instructors.
---
We welcome anyone from any Kyokushin groups, any Karate or Martial arts organization.

Contact:
Prasanna Fernando-Shihan of the Kyokushin Karate
Email: budo.karate@yahoo.com
Phone: 0744 303 9485
Jonathan Mendoza-Dojo Secretary
Email: Johnnyemendoza@gmail.com
---